HOW TO PLACE YOUR ADD HERE?
Simply Email:  superchargedoutlawsnsw@hotmail.com 
---
FOR SALE
2004 Supercharged Outlaw Dragster
Complete deal ready to race with Trailer
$55,000 ONO –  BARGAIN CHAMPIONSHIP CAR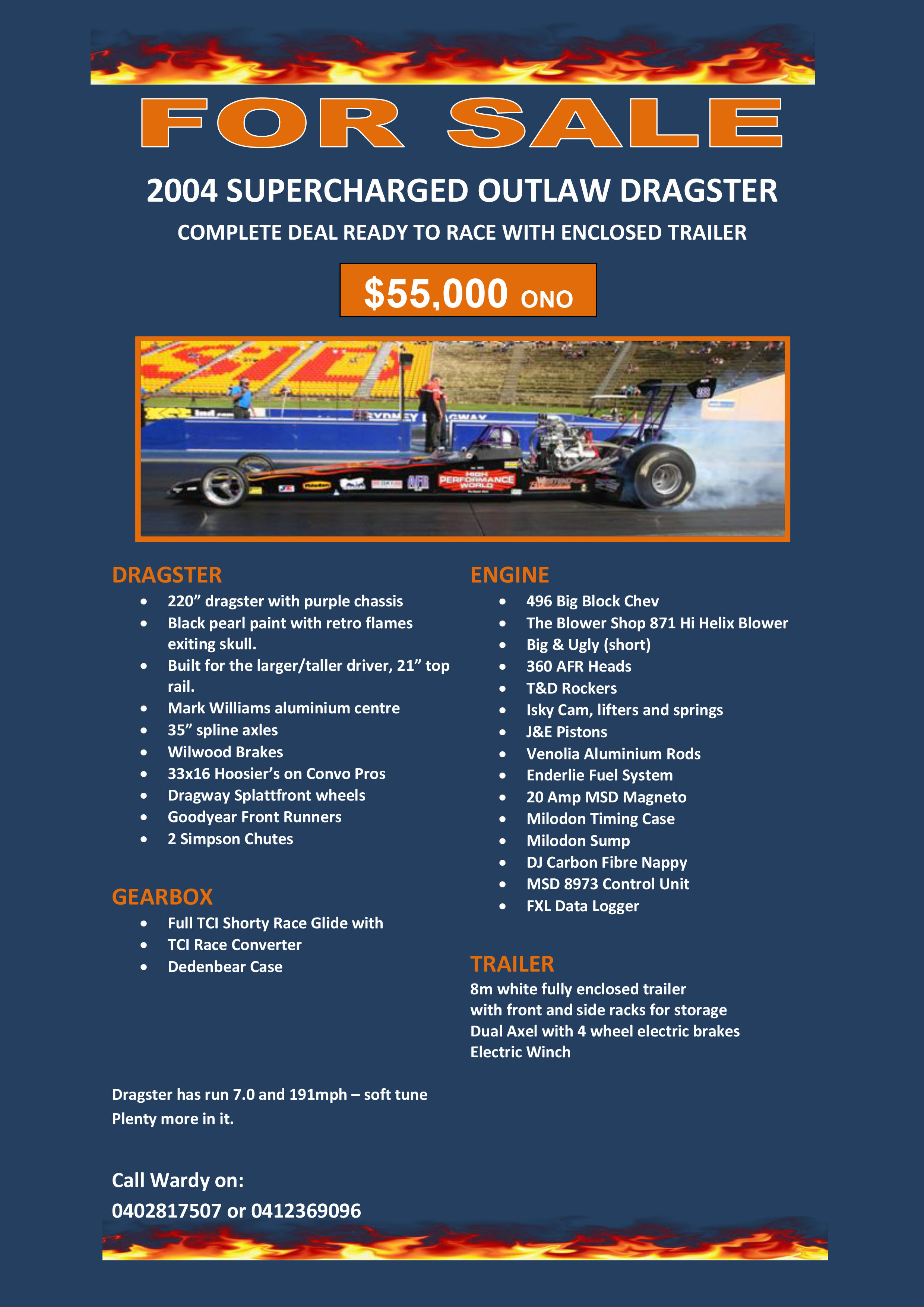 DRAGSTER
220" dragster with purple chassis
Black pearl paint with retro flames exiting skull.
Built for the larger/taller driver, 21" top rail.
Mark Williams aluminium centre
35" spline axles
Wilwood Brakes
33×16 Hoosier's on Convo Pros
Dragway Splattfront wheels
Goodyear Front Runners
2 Simpson Chutes
ENGINE
496 Big Block Chev
The Blower Shop 871 Hi Helix Blower
Big & Ugly (short)
360 AFR Heads
T&D Rockers
Isky Cam, lifters and springs
J&E Pistons
Venolia Aluminium Rods
Enderlie Fuel System
20 Amp MSD Magneto
Milodon Timing Case
Milodon Sump
DJ Carbon Fibre Nappy
MSD 8973 Control Unit
FXL Data Logger
GEARBOX
Full TCI Shorty Race Glide with
TCI Race Converter
Dedenbear Case
TRAILER
8m white fully enclosed trailer
with front and side racks for storage
Dual Axel with 4 wheel electric brakes
Electric Winch
Has run 7.0 and 191mph – soft tune
Plenty more in it.
Call Wardy on:
0402817507 or 0412369096